Restaurant Insurance Baton Rouge – Affordable Rates from Top Companies!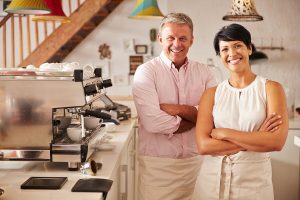 If you are searching for affordable Restaurant Insurance in Baton Rouge then call Jeff Davis Insurance at 337-824-4455 today. We offer free quotes with great rates on Baton Rouge Business Insurance for Restaurants from top-rated companies.  
Our office hours are Monday through Friday 8:00 AM to 12:00 PM and 1:00 PM to 4:30 PM CST. 
Click an option below to launch our free online quote request form.  
Baton Rouge Restaurant Insurance – Story Recap  
In part 11 of our continuing series following Pete Ross, owner of a restaurant called Squeaky Pete's Pork Emporium, Pete received a real bombshell. 
He was informed by his insurance agent, Tracy, that his current restaurant insurance policy will soon be canceled by the insurer due to Pete's excessive claims activity. 
Pete was understandably perplexed, so Tracy explained to him from a business perspective why the insurance company came to that decision. 
Pete eventually sees her point and then asks what his options now are. 
Tracy tells him she'll see what she can do for him. 
Business Insurance Baton Rouge – Coverage Scenario Part 12 
Tracy gets to work finding another insurance company who will be willing to insure Pete for Squeaky Pete's Pork Emporium before Pete's current policy ends. 
A couple days later, Tracy gives Pete a call. 
"Hi, Pete." 
"Hi, Tracy," Pete replies. "What have you got for me?" 
"I have good news and I have bad news, Pete," Tracy answers, reservedly. 
"I could use some good news right about now," says Pete with some exasperation.
"Well, the good news is that I did manage to find one insurance company willing to insure your restaurant." 
"That's great!" Pete exclaims excitedly, seeming to forget that bad news is about to follow. 
"The bad news," Tracy continues, "is that even though the company is willing to allow you to make monthly payments, your premiums with this new company are going to increase from $5,000 for the year to about $14,000."
Pete almost has a heart attack. His premiums nearly tripled in the space of a single year!
While Pete struggles with the news, Tracy does her best to explain why his premiums are so much higher. 
"Pete, you have to look at it from the new company's viewpoint. They are willing to insure you. Remember, Pete, you only paid $5,000 to your previous company for the entire year while they paid out $150,000 for multiple claims."
Tracy pauses while trying to be tactful with Pete.
"To be honest, every company to whom we submitted your account turned you down because of your claims. I'm sorry, Pete. This company is your only option."
After this all sinks in, Pete has a question for Tracy. 
"Would I, by any chance, be able to get a discount on my insurance if I were the owner of my building?" 
"Why do you ask?" Tracy inquires before answering. 
"The owner of the building I am leasing is filing bankruptcy and wants to sell it to me at a pretty cheap price so I agreed to buy it. In fact, next Tuesday we are scheduled to close the deal, so if I buy more coverage can I get a discount?" 
"What are you buying the restaurant for?" Tracy responds. 
Pete relates this information to Tracy. She promises to revise her quotes, now including coverage for the building, and get back with him.
Tracy gets the adjusted quotes and calls Pete two days later. 
In our next article, we will learn what Pete's options now are for the revised quotes.
Baton Rouge Restaurant Insurance – Let the Specialists at Jeff Davis Insurance Help You. 
The business insurance specialists at Jeff Davis Insurance are ready to help you find the very best rates and coverage being offered for your Louisiana Restaurant Insurance needs. 
Call 337-824-4455 or request a free quote online by clicking one of the locations below: