Garage Keepers Insurance New Orleans – Better Coverage and Better Rates!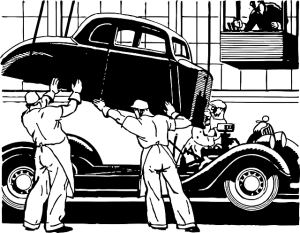 If you are interested in purchasing Garage Keepers Insurance in New Orleans or the outlying areas then do not hesitate to call Jeff Davis Insurance right away! 
Call 337-824-4455 to speak to an agent today and start your free quote on New Orleans Garage Keepers Insurance right now. 
Allowing the agents of Jeff Davis Insurance to search the insurance marketplace for you could save you thousands on your insurance!  
You can reach us any time Monday through Friday between the hours of 8:30 AM and 12:00 PM or 1:00 PM and 4:30 PM Central Standard Time.  
Garage Keepers Insurance New Orleans – Claims Scenario Continued… 
Last time, Bill Benson – owner of Benson Trusty Repair Shop – had to tell his long-time customer Sam Jones that the damage to Sam's car will not be covered by his Garage Insurance Policy.
Instead, Bill promised that he would pay for Sam's deductible once Sam submitted the claim to his own personal auto insurance.
To refresh your memory, recall that Sam's Honda Pilot was damaged in a collision while Bill's mechanic was taking the car for a test drive after replacing the water pump and timing belt.
Because the driver who hit the Honda was found to be at fault and without insurance, it seems logical to assume that Bill's Garage policy would pay the claim.
Bill called his agent to file the claim but as we learned in our last episode Bill's policy only extends coverage if Benson Trusty Repair Shop was legally obligated to pay, which in this case it was not— the other party was at fault and therefore liable.
What a mess, especially taking into consideration the fact that Bill's customer is one of the biggest he has.
So, Sam submits the claim to his insurance company. Fortunately, Sam had full coverage on his Honda Pilot, so the damage is covered.
However, Sam's insurance agent informs him that he will be charged with a not-at-fault accident which will cause Sam's insurance rates to go up.
Sure enough, Sam receives an increase on his next renewal and he is mad!  Why, he wasn't even driving his car when the accident occurred yet now his rates have increased because some fool was driving without insurance.
Even though Bill pays for Sam's deductible, Sam is understandably upset about his increased rates.
Bill has managed to tick off his best customer because his Garage Policy would not cover the damage to his customer's car.
Was there another option available that could have helped Bill avoid this entire debacle? We will look into this question in our next article.
Garage Keepers Insurance New Orleans – Call The Garage Insurance Experts Today!
Contact the Louisiana Garage Insurance experts at Jeff Davis Insurance today by dialing 337-824-4455.
Because we are an independent agency we can cherry pick the insurance market for the very best coverage and prices being offered at any given moment.
To start your free quotes call us today or click one of the links below: