Restaurant Insurance Louisiana – Announcing New Programs with Excellent Rates in Louisiana!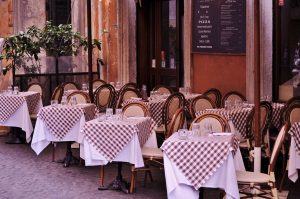 Are you the owner or soon-to-be owner of a restaurant in Louisiana? Are you searching for affordable coverage for Restaurant Insurance in Louisiana?
No matter if you are a brand new business enterprise or a veteran of the culinary industry, the agents of Jeff Davis Insurance can help you find the insurance protection you need at unbeatable prices.
Give us a call today at 337-824-4455 before 4:30 PM CST and we'd be happy to speak with you.
Have you found us after normal business hours or on the weekend? No problem at all. To request a Restaurant Insurance quote electronically, simply click one of the locations listed below to launch our free online quote request form: 
Restaurant Insurance Louisiana – Story Recap
In a previous article we were introduced to Pete Ross. When Pete was given an ultimatum by his extremely wealthy parents to figure out what he wants to do with his life, he convinced them to float him a loan in order to open a restaurant.
They agreed, but they also made it clear that after this loan it will be sink or swim for Pete.
Pete found a location, acquired an insurance policy, stocked his freezer with food, and all the other preparations that come along with opening a new restaurant.
He then took off on a vacation for a few days before the opening day of his business.
Upon returning he discovered that a storm had knocked out power to his building, resulting in an almost complete loss of his stores of ingredients.
In spite of this setback, Squeaky Pete's Pork Emporium's opening day is a big success. It's only after that first weekend that Pete remembered that his restaurant insurance policy just might cover food spoilage.
Now that we're all caught up, let's see what happens next.
Restaurant Insurance Louisiana – Coverage Scenario Part 2
Pete calls up his agent, Tracy.
"Hey there, Tracy. I have a quick question about my restaurant insurance."
"Okay, Pete," Tracy answers. "What do you need to know?"
"Well, my restaurant lost power last week so I lost everything that was being kept in the freezer.
Now, I seem to recall something in my policy about coverage for spoilage. Is that the case?" Pete asks hopefully.
"I'm afraid that's not the case, Pete," Tracy replies with regret. "You probably remember something about it because I recommended you purchase an optional coverage endorsement back when you set up your restaurant policy. Your Restaurant Insurance Policy does not extend coverage for spoiled food, but there is an optional coverage called Spoilage Insurance that would cover an event like this."
"Well, I guess I should buy some Spoilage Insurance, then."
Check in next time to find out what Pete gets himself into next.
Restaurant Insurance Louisiana – You Know the Restaurant Business. We Know The Insurance Business.
As a restaurant owner, you know the ins and outs of the restaurant business. By the same token, we at Jeff Davis Insurance know the ins and outs of the insurance business. Let us put that knowledge and experience to work for you.
Give us a call today by dialing 337-824-4455 to learn how you might be able to save big money on your Louisiana Restaurant Insurance premiums. 
To request a free quote online you need only click one of the links below to be taken to our convenient electronic form:
To start a free quote, click a location listed below: